Why Genuine Mercedes-Benz Parts?
Using only Genuine Mercedes-Benz Parts affords you measurable differences every mile you travel. Longevity, safety, an warranty are just a few of many reasons to buy Genuine Parts. engine
50,000-mile replacement engine coverage.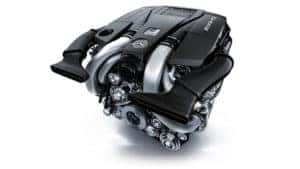 GENUINE PARTS WARRANTY
Coverage down to the last coil-spring.
Rest assured knowing Genuine Mercedes-Benz parts are fully covered by our Parts Limited Warranty for up to four years. This benefit comes on top of any prior warranty and/or prepaid maintenance plans.
Parts Limited Warranty Advantages
We are pleased to announce that effective January 1, 2017 the Mercedes-Benz Vehicle Service Parts and Accessories Limited Warranty has been changed from 12 months/unlimited miles to 24 months/unlimited miles. The new warranty periods are as follows:
24 months/unlimited milage, from date of purchase
Transmissions are warranted for 24 months or 24,000 miles, whichever comes first, from date of purchase
Engines and long blocks are warranted for 48 months of 50,000 miles (36 month or 36,000 miles for Sprinter), whichever comes first, from date of installation
The new warranty is valid on all parts sold as of January 1, 2017. The warranty is not retroactive to parts sold prior to January 1, 2017.*
Limited LifeTime Battery Warranty now available.
Coverage Includes:
Multiple battery replacements for as long as a customer owns their vehicle.
Two Roadside Assistance jump starts per battery provided by Road America.
Ask your Service Advisor today about the Limited Lifetime Warranty coverage for Genuine Mercedes-Benz Batteries.
Order Parts